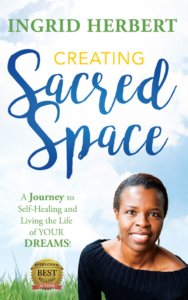 Creating Sacred Space: a Journey to Self-Healing & Living the Life of Your Dreams! recently hit #1 on the Amazon.ca Best Sellers List. The book was also featured as a Hot New Release by Amazon.
In Creating Sacred Space, readers are discovering tools and techniques to move from an ordinary lifestyle to one that is extraordinary. These tools can help generate feelings of fulfillment and passion which can develop into a deeper level of satisfaction and more enjoyment in day-to-day activities. 
Ingrid Herbert has gone through her own journey of self-healing and self-discovery. For close to a decade she lived in a permanent health crisis that cost her jobs, friendships, and relationships. She had what she called a half-life. Eventually, she found her breakthroughs in her healing, which led her to develop her own personal practice of Sacred Space. 
Drawing on more than 15 years of experience as an expert holistic health practitioner, reiki master, health coach and speaker she has used these life lessons to help her clients find joy in their relationships, more fulfillment in their careers, and transition through illnesses with partners and family. They've learned to manage overwhelming emotional and physical crisis while continuing to have a healthy positive outlook on life. 
Her deepest wish is that this book will help readers bridge the gap and bring into alignment the physical and spiritual journey so they can live the life of their dreams.
The author, Ingrid Herbert, stated "I've learned that the most important step in anyone's healing is their belief and acceptance of a possible solution." 
Travon Taylor, international speaker and trainer; author of the bestselling book, Success Chasing You, stated, "Creating Sacred Space is an amazing, comprehensive guide to helping anyone greatly improve their lives no matter where you are in your journey. Ingrid is full of wisdom and passion and will make a powerful impact." 
Creating Sacred Space: a Journey to Self-Healing & Living the Life of Your Dreams! is available online, including Amazon.ca, in Paperback and Kindle.
To learn more about Creating Sacred Space please visit www.wellnesstogo.ca
Video Link: https://www.youtube.com/embed/M-9p4y4lKjY
Location Info:
Wellness To Go.ca
2913 Kingston Rd, Scarborough, ON M1M 1N6, Toronto, Ontario M1M 1N6
(416) 707-4896