Could Gold ETFs Be Poised For More Upside?
July 17, 2020 at 17:07 PM EDT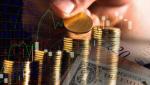 The gold market has been on fire throughout the first half of 2020, with prices driving above $1,800 an ounce for the first time since 2011, amid ongoing concerns that the coronavirus will derail the economy during the first half of the year. Yet, the push may not be over, as reigniting bullish...