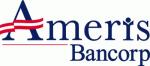 MOULTRIE, Ga., Oct. 19, 2011 /PRNewswire/ -- AMERIS BANCORP (NASDAQ-GS: ABCB) recently announced that Stephen (Steve) A. Melton has been appointed to serve as Executive Vice President and Chief Risk Officer of the Company and its wholly-owned banking subsidiary, Ameris Bank.
Melton received a Bachelor of Science degree in Industrial Management from Georgia Southern University in Statesboro, Georgia, and a Juris Doctor degree from the University of Georgia's Lumpkin School of Law in Athens, Georgia.
As a longtime resident of Columbus, Georgia, Melton's community leadership has included Chairman of Greater Columbus Chamber of Commerce, Advisory Board to the Muscogee County Juvenile Drug Court, Chairman of Columbus Technical College Foundation, Columbus Housing Authority, YMCA, Springer Opera House – The State Theatre of Georgia, and Director of the Georgia Bankers Association.  He and his spouse, Faye, will relocate to Moultrie, Georgia, and he will be based out of the Company's corporate office.
Commenting on the appointment, Edwin W. Hortman, Jr., the Company's Chief Executive Officer, stated, "Steve is a welcomed addition to our executive management team.  Having been a banker for over 30 years, Steve brings substantial acumen and talent that will have an immediate, positive impact in this new role as our Chief Risk Officer.  His commitment to community banking further supports our culture of building customer relationships.  Steve's passion for developing people coupled with a proven ability for fostering teamwork is significant as we continue to drive for success in our Company."
Prior to joining the Company, Melton's banking career included executive positions as Chief Executive Officer, President, and Chief Operating Officer of Columbus Bank and Trust Company, Regional Chief Executive Officer of Synovus, Chair of the Finance Committee at CB&T and Trustee of the Synovus Foundation.
Headquartered in Moultrie, Georgia, Ameris Bank has 62 locations in Georgia, Florida, Alabama, and South Carolina.  For additional information about Ameris Bancorp and Ameris Bank, please visit our web site at www.amerisbank.com.
Ameris Bancorp Common Stock is quoted on the NASDAQ Global Select Market under the symbol "ABCB". The preceding release contains statements that constitute "forward-looking statements" within the meaning of Section 27A of the Securities Act of 1933, as amended, and Section 21E of the Securities Exchange Act of 1934, as amended. The words "believe", "estimate", "expect", "intend", "anticipate" and similar expressions and variations thereof identify certain of such forward-looking statements, which speak only as of the dates which they were made. The Company undertakes no obligation to publicly update or revise any forward-looking statements, whether as a result of new information, future events, or otherwise. Readers are cautioned that any such forward-looking statements are not guarantees of future performance and involve risks and uncertainties, and that actual results may differ materially from those indicated in the forward-looking statements as a result of various factors. Readers are cautioned not to place undue reliance on these forward-looking statements.
SOURCE Ameris Bancorp