Dylan Newman, Military Veteran, Founder/Owner of Dart Wars – Indoor Nerf Battle Arena in Colorado Springs, was recently selected as Top Veteran Business Owner of the Year by the International Association of Top Professionals (IAOTP)
(PRUnderground) March 3rd, 2021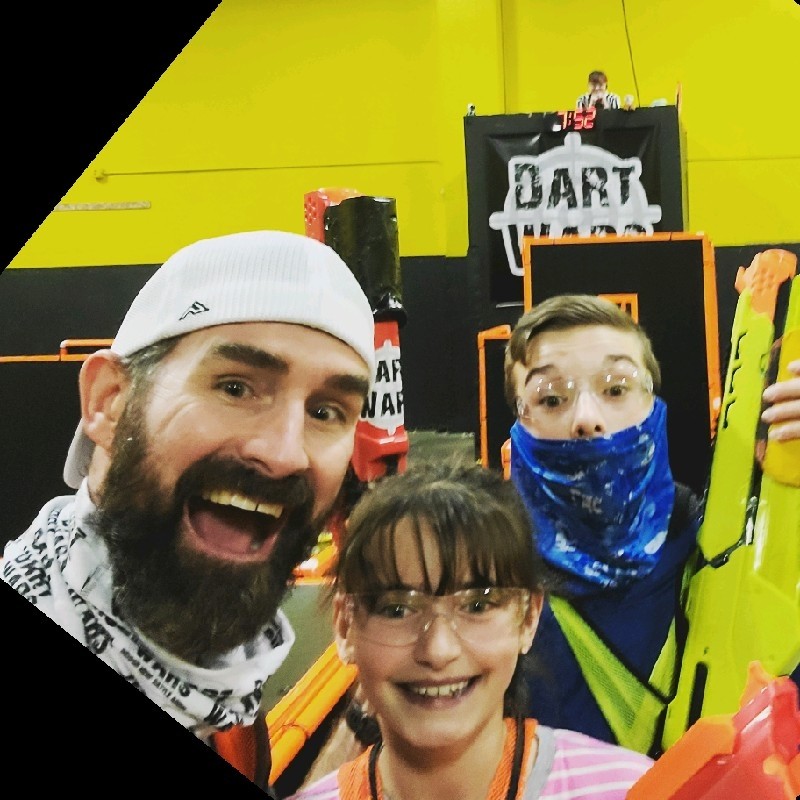 Dylan Newman, Military Veteran, Founder/Owner of Dart Wars – Indoor Nerf Battle Arena in Colorado Springs, was recently selected as Top Veteran Business Owner of the Year by the International Association of Top Professionals (IAOTP) for his outstanding leadership, dedication and commitment to the industry.
While inclusion with the International Association of Top Professionals is an honor in itself, only a few members in each discipline are chosen for this distinction. These special honorees are distinguished based on their professional accomplishments, academic achievements, leadership abilities, other affiliations and contributions to their communities.  All honorees are invited to attend the IAOTP's annual awards gala at the end of this year for a night to honor their achievements. www.iaotp.com/award-gala
With over twenty years of professional experience as a Military Officer and Entrepreneur, Dylan has certainly proven himself as an accomplished professional and expert in many different fields. He is a dynamic, results-driven leader, who has demonstrated success in his 20+ years in Special Operations, Portfolio Program Management, and as a Special Agent in the United States Air Force. Currently, Dylan is the Founder/Owner of Dart Wars, the Nation's premier indoor Nerf battle arena located in Colorado Springs, Colorado. Furthermore, Dart Wars drives a culture of diversity and inclusion and the business has survived 2 COVID shutdowns and severe operating restrictions. Dart Wars has generated over $950k in revenue since only March of 2019.
His impressive repertoire of prior roles includes his honorable service in the United States Air Force, serving as a Federal Law Enforcement Special Agent for the Air Force Office of Special Investigations (AFOSI). For the next 16 years Dylan planned and executed more than 100 complex Special Operations missions as a Special Tactics Combat Controller. He also served as the lead Portfolio Program Manager for the Air Force Special Operations Portfolio worth over $1.5 Billion dollars. When Dylan retired from the military, he was hired as a Race Director for Spartan Race, Inc., Dylan worked in a Senior level leadership and operations position and also worked for a Fortune 100 company where he led multi-million-dollar telecommunications projects as a managing Project Manager.
Dylan's areas of expertise include Program Management, Law Enforcement, Leadership Development, Operational Planning, Military Training, Human Resources, Research and Development, Financial Analysis, Cross-Functional Team Leadership, Strategy Execution, Logistics Management, Event Planning, Public Safety, Public Speaking, Leading Meetings, Acquisitions and Recruiting.
Before Dylan chose his current career path, he attended the United States Air Force Academy where he received a Bachelor of Science in Legal Studies. He rounded his studies at the University of Oklahoma and earned his M.A. in Political Science and Government. Dylan is currently working toward his MBA through the Jack Welch Management Institute.
In addition to his successful career, Dylan is an active member of his community and devotes a significant amount of time to giving back. He has donated blood to the Red Cross for over 25 years, he is a long-time member of his local Catholic Church and maintains his role as a Support Worker for the Habitat for Humanity International. Moreover, Dylan makes monetary donations to Operations Smile and proudly helps foster Children as a Foster parent for his Foster agency – Hope and Home. Not only does Dylan and his family dedicate their time to giving back to the community, he also integrates a strong social impact program at Dart Wars. Dart Wars employs foster teens to ensure they are getting life-skills taught to them by being a part of a team and Dylan mentors and coaches his team at Dart Wars to ensure they are ready for the next steps of life. Dart Wars also has raised thousands of dollars for Foster kids and led toy drives garnering 500+ presents being donated to local Foster agencies in Colorado Springs. Dylan offers a Foster Family night once a moth and free birthday parties to Foster children.
Throughout his illustrious career, Dylan has received awards, accolades and been recognized worldwide for his outstanding leadership and commitment to the industry. This year he will be considered for a feature article in TIP (Top Industry Professionals) Magazine and will also be considered for the Business Innovator of the Year Award given by the International Association of Top Professionals (IAOTP). Dylan will receive his Top Veteran Business Owner of the Year Award on stage at IAOTP's 2021 Annual Awards Gala being held at the magnificent Plaza Hotel in NYC. In 2020, Dylan earned the Berry Law Veteran Business Owner of the Year Award and was chosen by the Gazette News "Best of the Springs" 8 different times as a winner for Dart Wars.
The President of IAOTP, Stephanie Cirami, stated "Choosing Dylan for this award was an easy decision for our panel to make. He is brilliant at what he does, has tremendous foresight and contributes all of his passion into his business endeavors. Dylan is humble, gracious and we felt he would make an amazing asset to our organization. We are looking forward to meeting him at the Annual Awards Gala."
Looking back, Dylan attributes his success to his perseverance, his training in the United States Air Force and his unique leadership abilities as well as his business skills. When not working, he enjoys spending time with his family, skiing, hiking and traveling. For the future, Dylan's mission is to continue driving the success of Dart Wars and turn it into a National brand – and to grow the Social Impact mission for Foster Kids and Families.
For more information on Dylan Newman and Dart Wars, please visit:  www.dartwars.com
About IAOTP
The International Association of Top Professionals (IAOTP) is an international boutique networking organization that handpicks the world's finest, most prestigious top professionals from different industries.  These top professionals are given an opportunity to collaborate, share their ideas, be keynote speakers, and to help influence others in their fields. This organization is not a membership that anyone can join.  You have to be asked by the President or be nominated by a distinguished honorary member after a brief interview.
IAOTP's experts have given thousands of top prestigious professionals around the world, the recognition and credibility that they deserve and have helped in building their branding empires.  IAOTP prides itself to be a one of a kind boutique networking organization that hand picks only the best of the best and creates a networking platform that connects and brings these top professionals to one place.
For More information on IAOTP please visit:   www.iaotp.com
The post Dylan Newman selected as Top Veteran Business Owner of the Year by IAOTP first appeared on PRUnderground.
Press Contact
Name: Stephanie Cirami

Phone: 212 634 4427

Email: Contact Us

Website: https://www.iaotp.com/
Original Press Release.