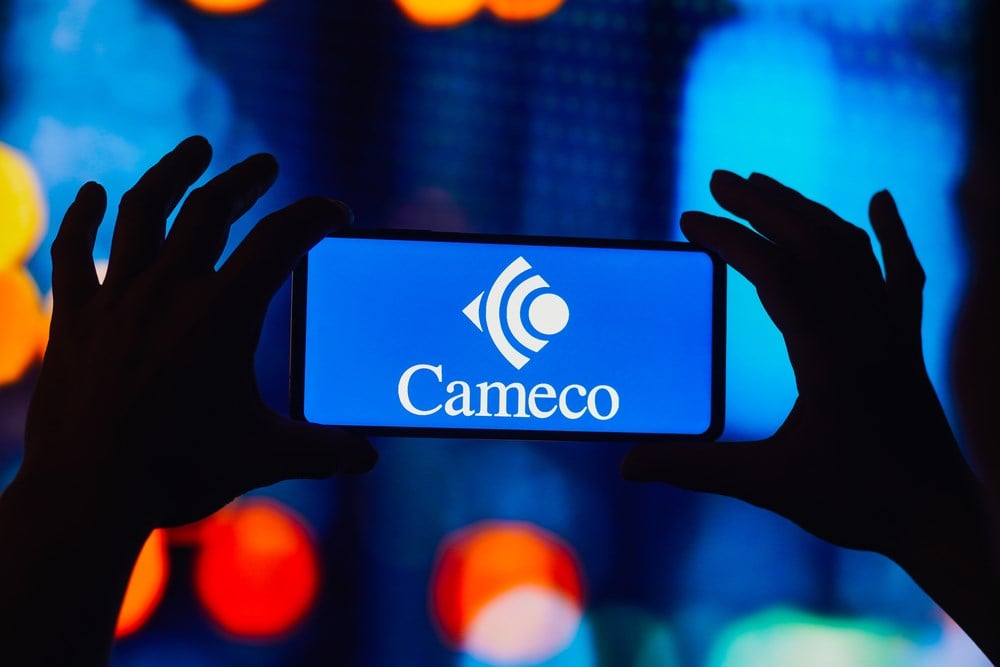 Uranium stocks are moving again, with market leader Cameco (NYSE: CCJ) hitting a 52-week high. It sits within spitting distance of its most crucial resistance level of $32, which has plagued the stock since the uranium bull market started in 2020.
As many Western nations aim to reduce reliance on fossil fuels, nuclear energy is emerging as a compelling option. The uranium industry, which produces and refines the raw material required for nuclear power plants, is backed by multiple catalysts that can push the industry beyond the tight range of support and resistance it's been stuck in since late 2021.
But the question remains, is this another fake breakout?
The Uranium Bull Market: Time to Resume?
Uranium was in a ruthless bear market lasting over a decade, but the tide shifted in late 2020. The combination of an aging fleet, lack of investment, and mine closures due to low prices made uranium scarce at a time when nations like China and India were scaling up their nuclear programs.
The uranium market shifted in the second half of 2020 and hit a 12-year high by the end of 2021. The war between Russia and Ukraine exacerbated shortages, given both nations' uranium production capabilities.
Compared to uranium's run in the 2000s, the current bull market looks like it's in the early innings: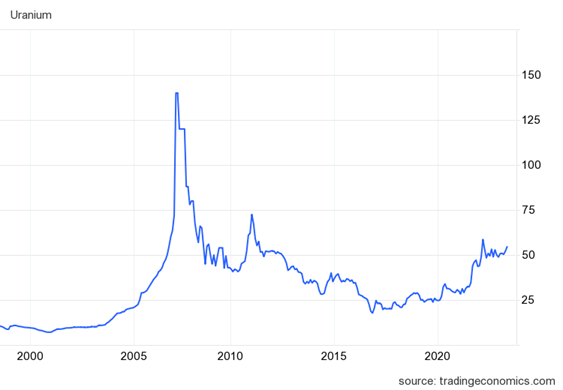 Playing a pivotal role in Sprott and its Sprott Physical Uranium Trust (OTCMKTS: SRUUF), a closed-end fund that has bought billions of dollars of uranium and stored it away in a vault, completely removing it from the physical market.
However, the uranium market has yet to breach the high watermarks reached in response to Russia/Ukraine. That might be changing. Recently, uranium broke above the stubborn $54 resistance level, serving as a battleground over the last year.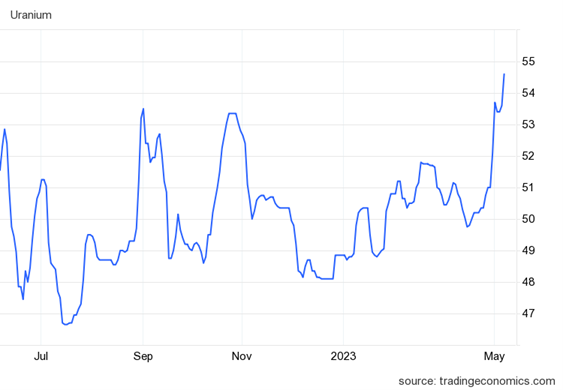 But recent history for uranium is a story of fake breakouts, and the recent rally might die of the same fate. Despite that, nuclear energy is receiving significant momentum in Washington and abroad.
Many uranium equities have failed to keep pace with spot uranium prices. This might be because the uranium market focuses more on long-term contracts or the "term market." Still, the delta between the commodity and equities is wide enough to justify additional interest.
The Speculator's Digest flagged this recently with a chart marking the underperformance of the Global X Uranium ETF (NYSE: URA) compared to spot uranium: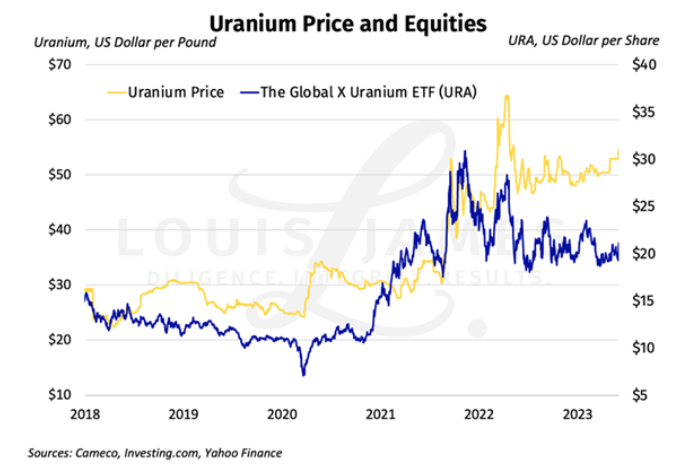 Is Washington Turning the Corner on Uranium?
Recent developments suggest a revival in public sentiment toward nuclear power, which had been somewhat muted since the 2011 Fukushima nuclear disaster.
In March, we remarked on how famous figures like Greta Thunberg, Alexandria Ocasio-Cortez and Oliver Stone started going to bat for nuclear energy. In the last week, we've seen two significant developments in Washington that inspire hope for uranium investors.
On June 1, the US Senate and Public Works Committee advanced a bill to promote nuclear power in the United States. Days later, the US Department of Energy announced plans to acquire uranium material to reduce dependence on foreign suppliers like Russia.
New power plant construction is gaining momentum, and soon-to-be-retired plants are being extended or reopened, like the Palisades plant in Michigan, which the state government pledged "full support" for reopening last week. Elsewhere, Belgium, Sweden, France, South Korea, and Japan are all proposing new construction or extending old plants.
How To Play Uranium? Cameco
Several compelling options exist to play uranium, including ETFs, physical trusts, and miners. But Canadian miner Cameco (NYSE: CCJ) stands out.
Buying a uranium miner like Cameco is a bet on the growth of nuclear power and, consequently, uranium price growth. The bet is that as electricity demand grows and fossil fuels become harder to come by, the world continues to shift its energy mix to contain more nuclear power. This pushes uranium prices up and makes it more profitable to produce.
So it makes sense to buy a blue chip rather than a small, pre-revenue exploration company with a questionable chance of ever beginning a project. Cameco is the largest uranium producer in the Western world, an ever-important distinction, with Russia and its ally Kazakhstan controlling the lion's share of global production.
And with the company's 49% ownership in Westinghouse, a downstream uranium service provider, Cameco is vertically integrated and participates in the entire uranium value chain.
The stock sits within a critical resistance zone, meaning we'll likely see either a breakout or significant price rejection quite soon, as stocks don't tend to hang out at these levels for long.