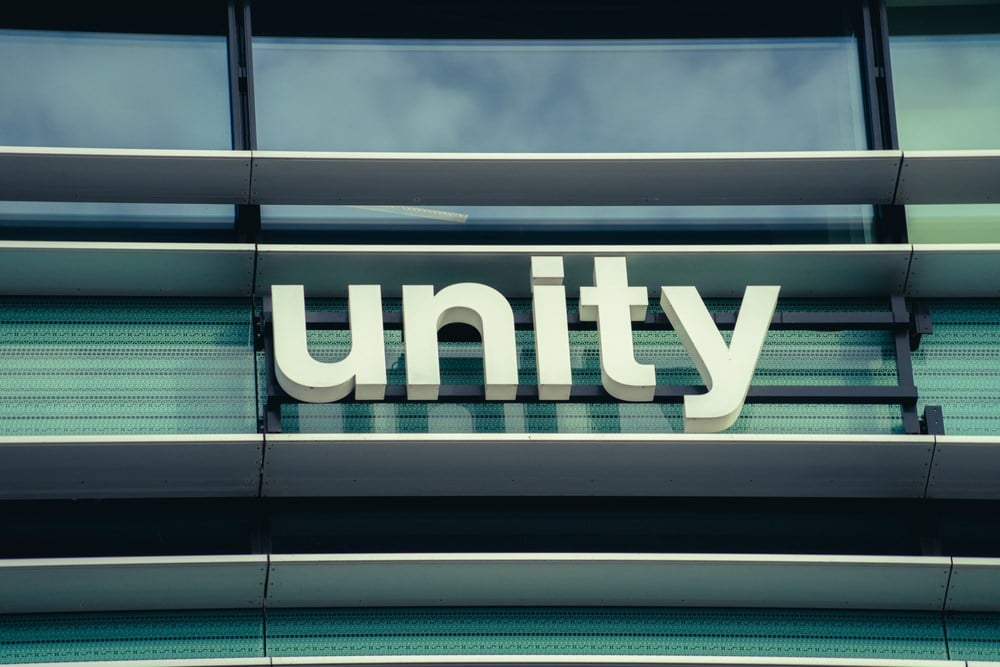 Unity Software (NYSE: U) saw its share price rocket higher Monday afternoon and closed the day up almost 20% after Apple (NASDAQ: AAPL) announced they are working together on the Apple Vision Pro headset.
The breaking news caused Unity's stock to break above the declining 200 SMA, tear above previous resistance around $33, and fill the gap from March, near $36. The stock traded almost 5x its ATR and nearly 4x its average volume. YTD, Unity is now up almost 27%, and the bottom looks in.
The announcement came during Apple's Worldwide Developers Conference (WWDC) on Monday, where Apple unveiled a new major product for the first time in almost a decade, the Vision Pro. While the announcement sent Unity stock soaring, it had the opposite effect on Apple's share price, with the tech giant pairing back earlier gains in the session and closing the day in the red.
Unity is a game development platform that allows users to create and build interactive 2-D and 3-D environments for gaming and other applications. Unity was one of the first developers to fully support the iPhone operating system, making it a go-to choice for game developers. Over the years, Unity has expanded its offerings to include desktop, mobile, tablets, consoles, 3-D, web-based, and virtual reality platforms.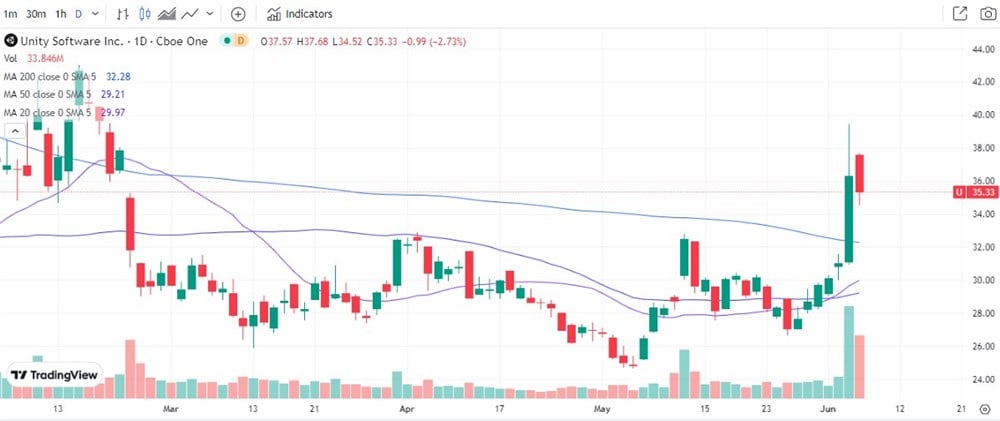 Earnings and Outlook
The company announced Q1 earnings on May 10th and reported a beat on revenue. For the quarter, revenue was $500 million, up 56% year over year. The company expects to report $510 - $520 million in Q2 revenue, topping estimates of $509 million. Unity reported a net loss of $254 million, or 67 cents per share, for the quarter.
The company also announced that it would restructure specific departments and teams, with layoffs helping it position itself for long-term and profitable growth.
Like many other tech companies, specifically in the gaming industry, Unity used its first quarter earnings call and report to establish itself as a critical player in artificial intelligence (AI). In a report, the company said: "We embraced AI years ago and see the adoption of AI tools as an accelerant to our business based on our structural and sustainable competitive advantages."
Currently, Unity has four applications and services that support artificial intelligence.
Institutional Ownership and Analyst Ratings
Current institutional ownership of U stock is 82.5%. That figure has increased in the past twelve months as institutions purchased $1.53 billion. During the same period, total institutional outflows were $526.69 million, bringing the net institutional inflows in U stock to about $1 billion.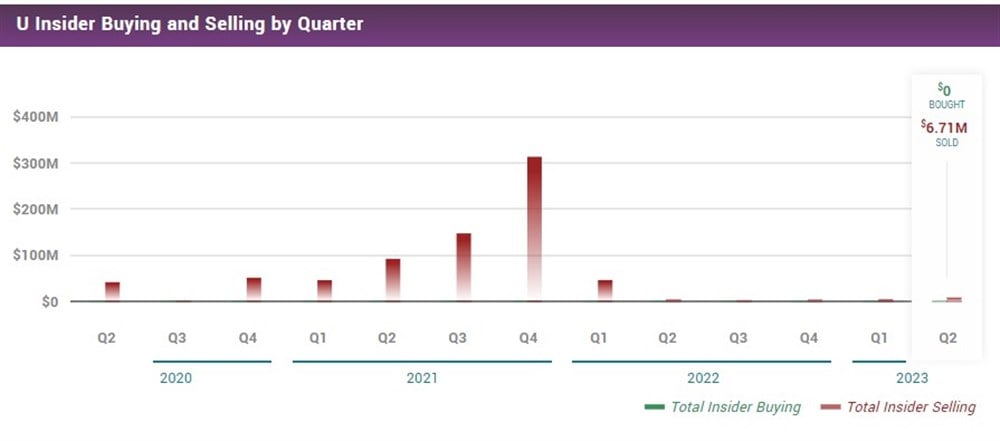 Insider ownership is currently at 9%. That percentage has steadily decreased, and in the previous twelve months, insiders sold $14.22 million worth of stock.
The stock currently has a consensus rating of Hold, based on 17 analyst ratings. The consensus price target is $40.06, implying an 11.78% upside.
Should You Invest in U
First-quarter solid earnings, embracing AI, and a consensus PT indicating further upside paint a bullish picture for the stock. Unity has a stable financial position, including a cash position of $1.59 billion and current assets of $2.24 billion. The recent partnership with Apple and their game development platform's versatility have helped shift momentum and propelled its share price.
Unity's strategic developments, innovations, and partnerships support growth, making it an enticing choice for investors seeking gaming and AI industry exposure.